​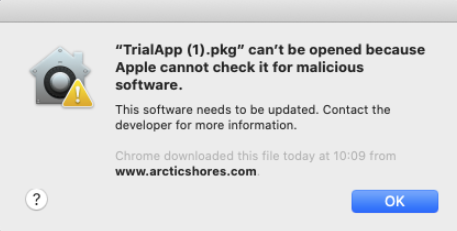 If you've tried to download the assessment on your Mac, and you've received this warning, don't panic. There's nothing to worry about. This is due to an update to the new Mac operating system (OS).
There are two separate approaches you can take to solve the issue:
1. Move the package to your Desktop, hold Control, and click the file to launch the installer. When you see the message appear, click Continue and follow the steps.
If that doesn't work:
2. Go to 'System Preferences'. Click 'Security & Privacy', and then 'General'. You should see an option to open your app from here.
If you're still experiencing issues, please let us know via the support form here.
Unable to find a solution to your query in the Knowledge Base? Fill in a
Candidate Support Form
, and we'll be in touch within two hours.