So you have tried to download the assessment onto your Mac, and you have received this warning:
​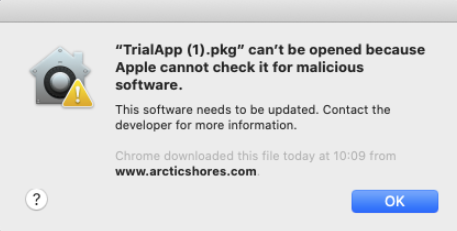 First of all, you have nothing to worry about!
Although warnings like this can be off putting, there is nothing to worry about. This is due to an update to the new Mac operating system. If you are still worried, then email the company you have applied for and they will happily offer reassurance.
Now, lets solve the problem;
1. Go to finder, Downloads, then right click the download then click open with and finally click open.
Otherwise try;
2. Move the package to the Desktop and then hold Control and click the file to launch the installer. When the message appears, click Continue.
Finally;
3. Go to System Preferences: Security and Privacy, then General. You should see an option to open your app there.
If all three of these options do not work then use a mobile phone that is 4 years old or newer. If you do not possess one yourself, would you be able to borrow a friends device?
Unable to find a solution to your query in the Knowledge Base? Fill in a
Candidate Support Form
, and we'll be in touch within two hours.